Mini art journal challenge – week 44
.
Temat w tym tygodniu – dom.
Moja karta jest prosta – narysowałam na niej tylko akwarelowymi kredkami mały domek, nitownikiem dorobiłam dziurkę i zawiązałam kokardkę z rafii.
Dom to dla mnie miejsce w którym jest miłość. To najważniejsza rzecz. Bez niej dom to tylko mieszkanie – kilka ścian i dach. To tylko przedmioty.
A mój wymarzony dom? Koniecznie gdzieś na wsi. Mały, prosty domek z ogrodem i starym sadem. Dużo kwiatów, kilka zwierząt. I dużo, dużo miłości. O, niech to się spełni…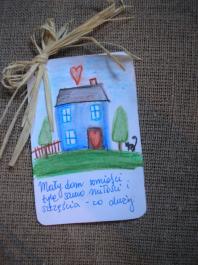 This week prompt is – home.
My card is simple – I've only draw a house on it with my watercolour crayons, I've made the eyelet and tied raffia bow.
Home is for me house where is love. It's the most important thing. Without love home is only a house – few walls and a roof. Only things.
And my dream home? It's at the countryside… Small house with garden and old orchad… Many flours and few animals. And love, love, love. O, may this dream come true…
.
Mini art journal challenge – week 9
.
Tematem w tym tygodniu były inspiracje. Gdzie ich szukamy, gdzie je znajdujemy, co nas inspiruje.
Mnie inspirują najczęściej prace i osoby znalezione w sieci – dlatego na mojej karcie przykleiłam wydruk zrzutu z ekranu z wynikami wyszukiwania Google :)
A swoją pracę dedykuję wszystkim dziewczętom, które biorą udział w challengu Emily, prowadzą swoje blogi i inspirują mnie na milion sposobów. Dziękuję!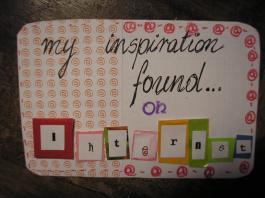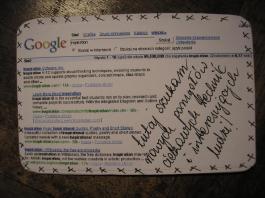 This week propt was: inspiration found! Where we search and find our inspiration and what inspiration means for us.
I find my inspiration mainly on the Internet. So on my card I've sticked print of my print screen with results from Google searcher :)
And I dedicate this card to all girls from Emily's challenge, and other girls who write their blogs and inspire me in milion ways… Thanks!
Podobne wpisy: