Mini art journal challenge – week 45
W tym tygodniu, ze względu na chorobę Emily, temat pojawił się nieco później i jest nim – samorealizacja. Oto moja karta na ten tydzień.
Tak jak rok 2006 był dla mnie rokiem wielkich, ważnych zmian, tak rok 2007 jest dla mnie rokiem kreatywności, odkrywania siebie i samorealizacji. Kilka słów na odwrocie karty jest dość osobistych, dlatego zachowam je dla siebie ;)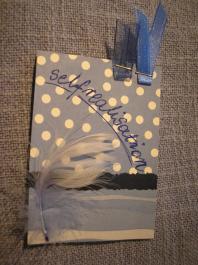 .
Emily was sick, so this week our prompt appeared later. This week's prompt is: self realisation.
The year 2006 was, for me, year of changes. And the year 2007 is year of creativity, self realization and self-knowledge. I wrote few words about it on the other side of my card, but they are rather intimate, soI will keep themfor my eyes only :)
.
Mini art journal challenge – week 26

Tematem w tym tygodniu były córki. Ogólnie.
Nie mam własnej. Ale gdzieś tam, w moim sercu, tkwi mała wymarzona istotka. Nie wiem, jak będzie miała na imię. Nie wiem, czy kiedykolwiek będzie mi dane powołać ją do życia. Na razie jest tylko – moją wymarzoną córeczką.
.
The prompt was: celebrating daughters. Daughters – generally.
I don't have a daughter. But somewhere in my heart there is a little dream girl. I don't know, what will be her name … I even don't know, if I would have a chance to give her life. For now she is only – my dream daughter.
Podobne wpisy: