Oto cała talia kart, które zrobiłam na challenge Emily.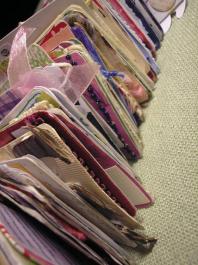 Z niektórych jestem bardziej, z innych mniej zadowolona, ale przygotowywanie tych małych prac było wspaniała zabawą :) W sumie jest ich 52 – po jednej na każdy tydzień 2007 roku, plus jedna dodatkowa, którą zrobiłam dla Emily, kiedy urodziła się Yindi. Myślę, że razem prezentują się też nieźle…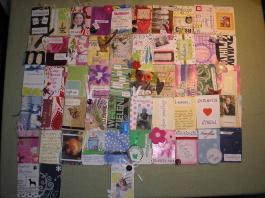 Pomyśleć tylko, że to cały rok zamknięty w małej talii. Na razie leżą w pudełku, ale chyba uszyję na nie jakiś specjalny "schowek" :)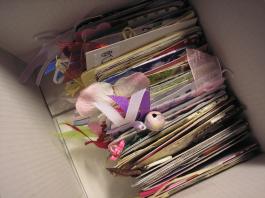 This is whole deck of cards which I made for Emily's challenge. Some of them i like, some of them I like less, but it was great fun to do them :) There are 52 cards and one additional card, which I made for Emily, when Yindi was born. I think that the whole "Deck of me" looks good…
It's nice to think, that this is whole year closed in this small deck. I keep them in a box right now, but I think I'll sew some bag for them.